Waratah Fencing System
Get a fence that makes sense! Choose the Waratah Fencing System™ - Waratah's posts, wire and accessories work together effectively to create a fence that lasts longer, performs better and costs less in the long run. You may think combining premium and cheap fencing products won't cause problems, but inferior parts can quickly corrode and weaken your entire fence. After all, you're only as strong as your weakest link.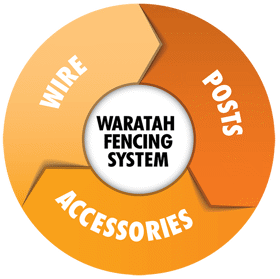 POSTS
Fence posts are key to a fence's strength and longevity. Waratah's grade specific steel posts have superior quality, strength, resilience and are hot dipped galvanized which ensures that the post doesn't develop rust when in contact with Waratah Longlife Blue wire. Some inferior fence posts rust easily in corrosive environments, degrade fence wire prematurely, or are weaker, which requires them to be spaced closer together, which all adds significant cost and time when installing and maintaining your fence.


WIRE
For a quality fence that is as long lasting as it is attractive, always use Waratah Longlife® Blue colour® fence wire. Its protective coating makes it last at least 9 times longer than standard galvanized wire and at least 1.5 times longer than heavily galvanized wire, which means minimal fence maintenance and a quality fence line when used in conjunction with all elements of the Waratah Fencing System.


ACCESSORIES
Using Waratah's range of market-leading, innovative accessories will save you time and money in both constructing and maintaining your fence over time. Strainer assemblies, tools and other accessory products like Gripple® wire joiners are critical in any fence line. You don't need to be a professional to do a professional job. All you need are the right accessories and tools to get the job done.