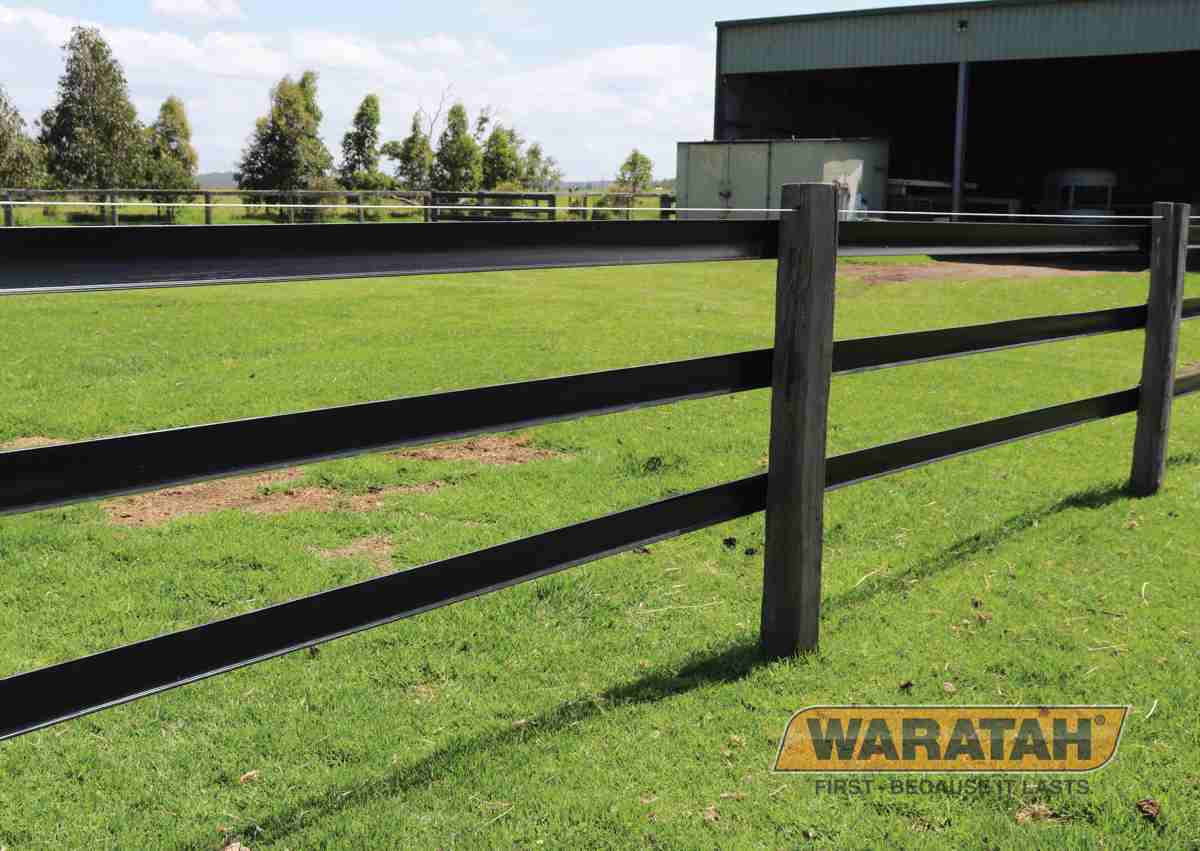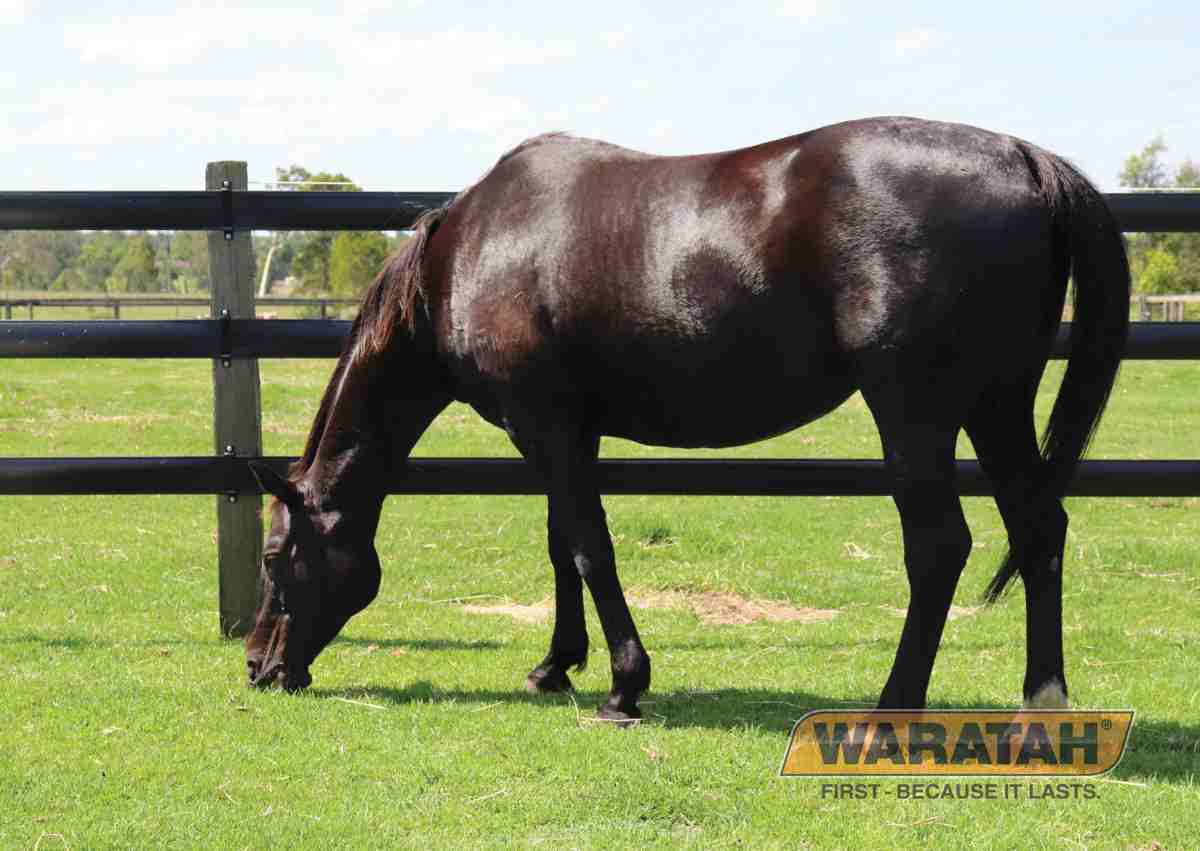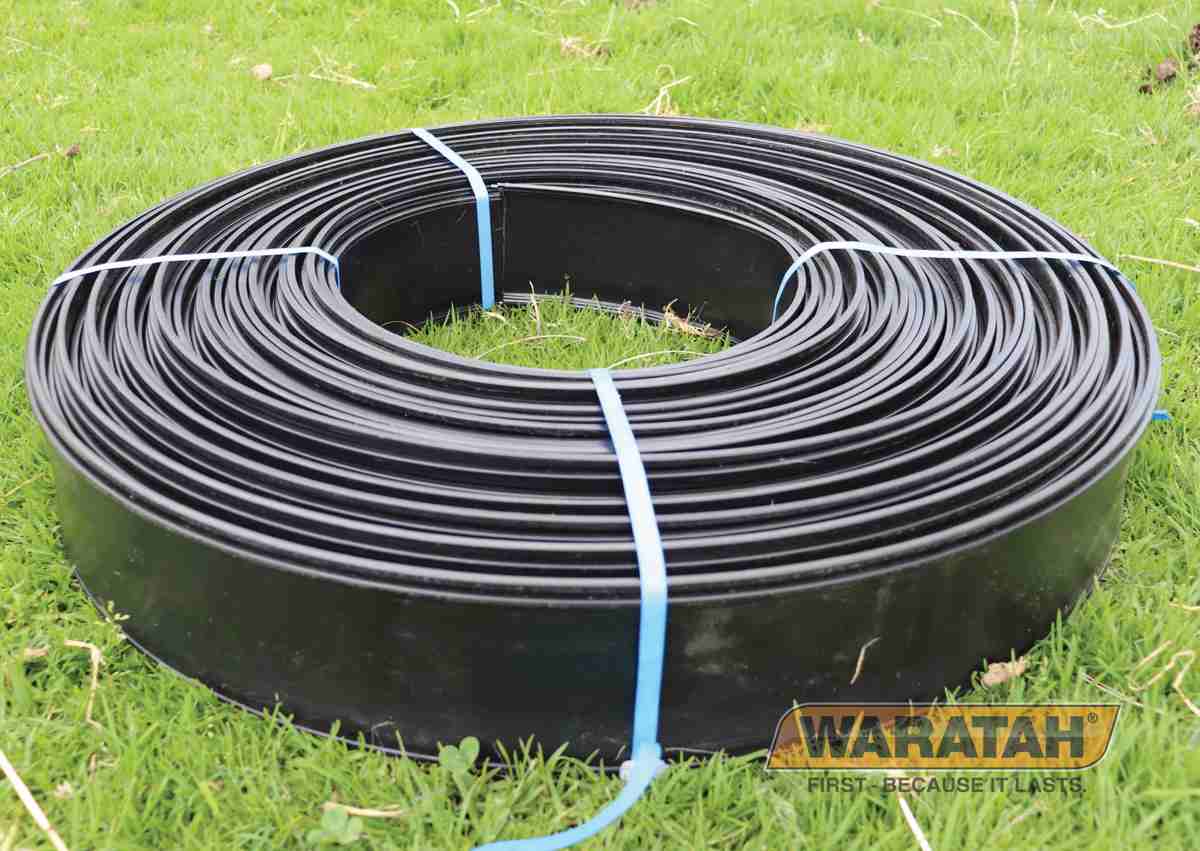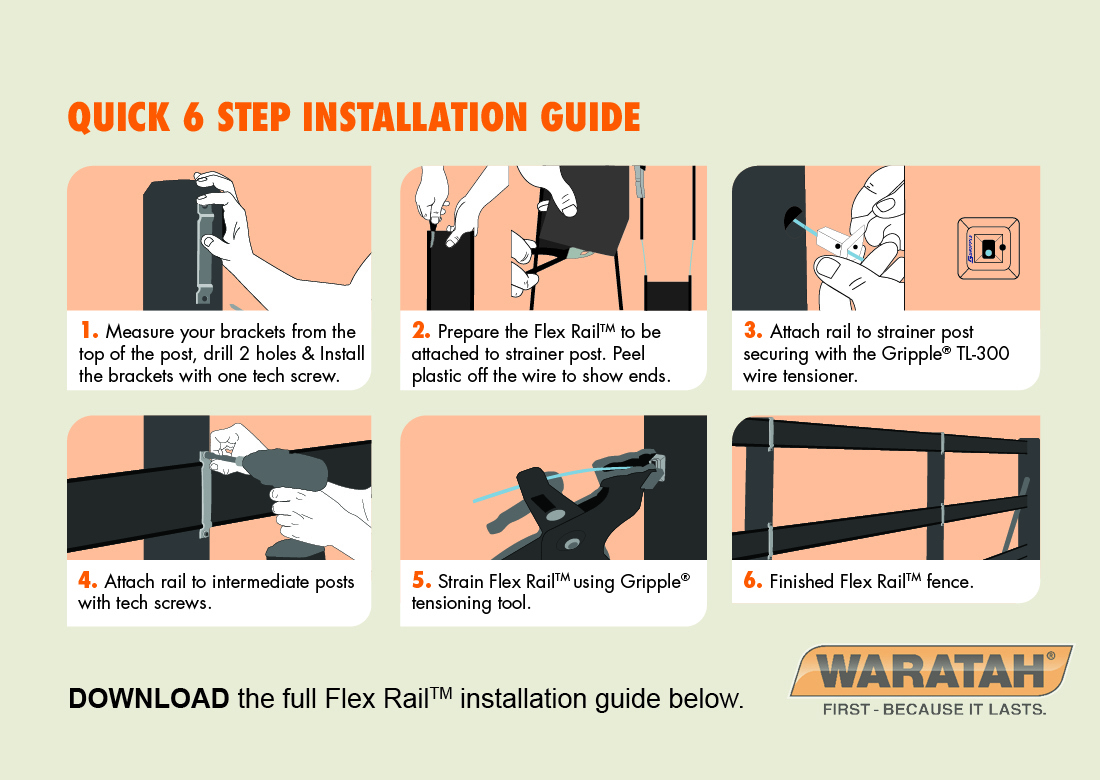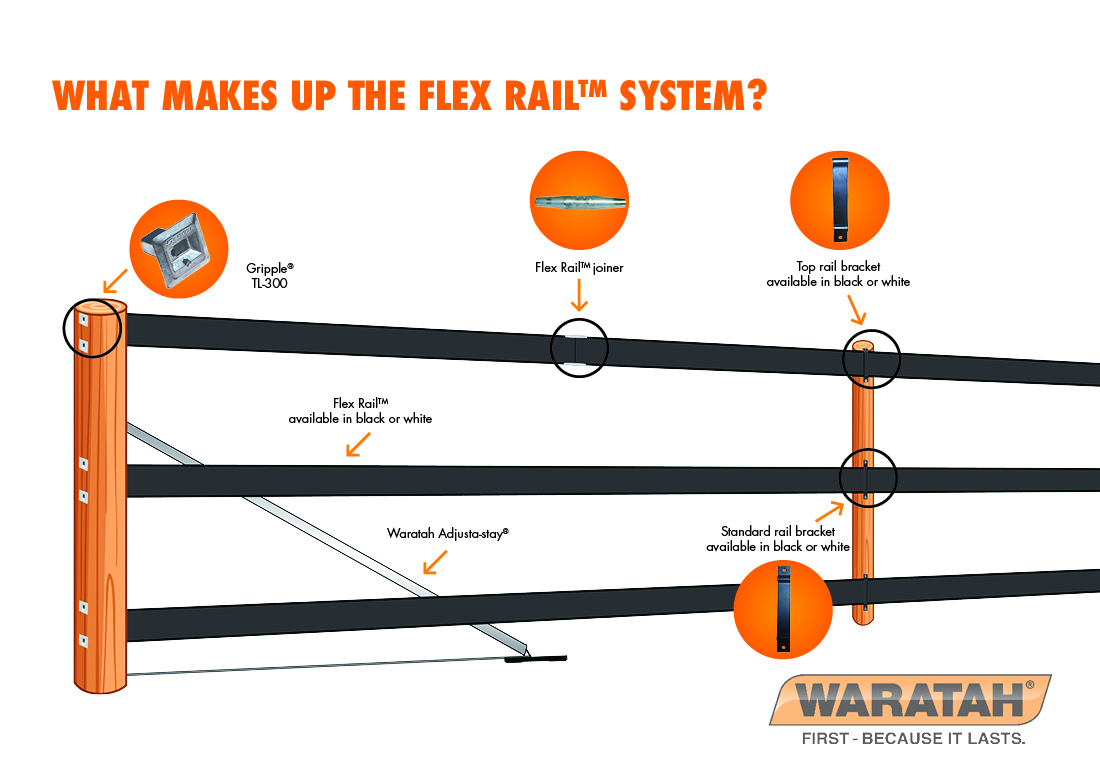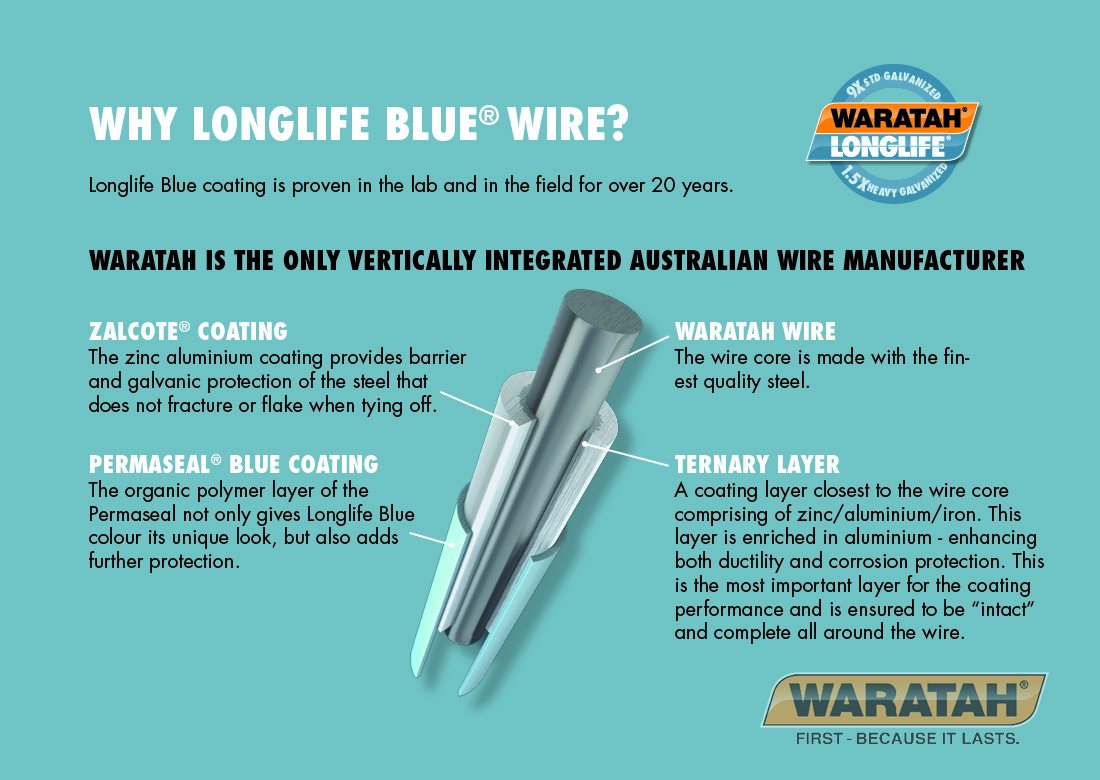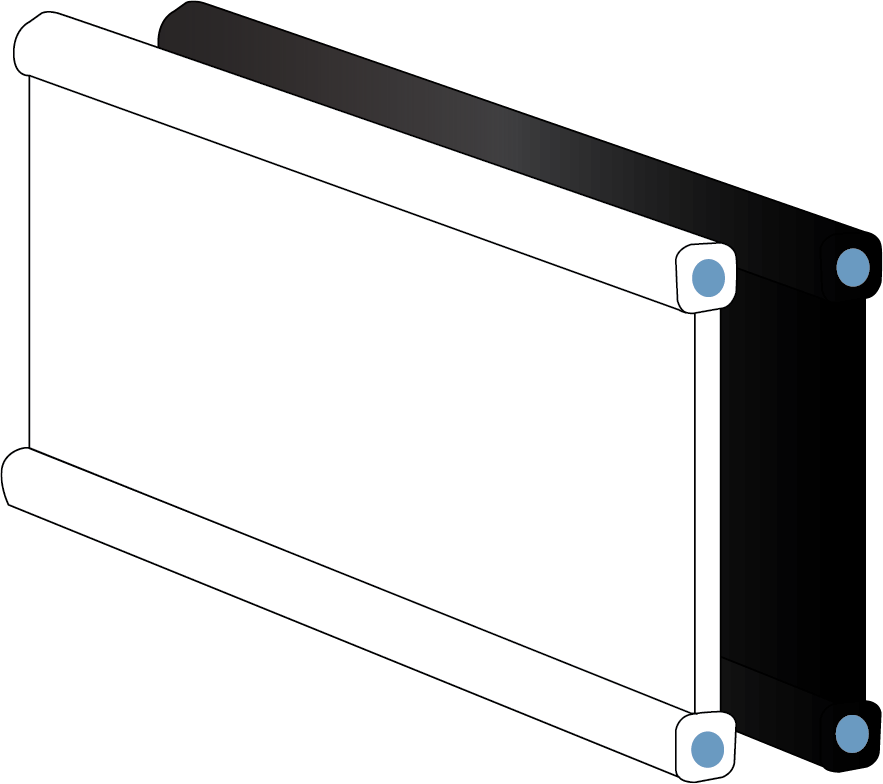 FLEX RAIL
For equine fencing
​
FEATURES

LOOKS - Like a timber rail fence, but with greater flexibility, no splintering or need to paint.
SAFE - A highly visible rail that absorbs impact, reducing the risk of serious injuries.
HIGH QUALITY - Made from high quality polymer UV stabilised plastic and high tensile Longlife Blue colour® wire. This combination provides consistency, strength and durability.
SUPERIOR PROTECTION - Can be used in corrosive environments with Longlife Blue colour® wire delivering maximum corrosion protection that exceeds Australian standards.
ADDED STRENGTH - Flex Rail provides strong perimeter protection with the 2.50mm high tensile Longlife Blue® wires reinforcing the strength of each rail.
LOW MAINTENANCE - Will not splinter or rot. Minimal upkeep is required for a visually appealing fence with no need to paint rail.
FAST INSTALLATION - Flex Rail installs in one continuous length (100m roll) with no heavy machinery required. Waratah supply accessories that attach, join and tension your Flex RailTM quickly and easily to your intermediate and strainer posts.
AUSTRALIAN MADE - Flex Rail is made in Australia minimising lead times or shipping delays & is readily available from your local Waratah distributor now.

SPECIFICATIONS

Roll width: 120mm
Wire size: 2.50mm
Roll length: 100m

Available in black & white
SCAN FOR MORE INFORMATION
Fencing Accessories
Flex Rail™
For equine fencing
LOOKS - Like a timber rail fence, but with greater flexibility, no splintering or need to paint.

SAFE - A highly visible rail that absorbs impact, reducing the risk of serious injuries.

HIGH QUALITY - Made from high quality polymer UV stabilised plastic and high tensile Longlife Blue colour® wire. This combination provides consistency, strength and durability.

SUPERIOR PROTECTION - Can be used in corrosive environments with Longlife Blue colour® wire delivering maximum corrosion protection that exceeds Australian Standards.

ADDED STRENGTH - Flex Rail provides strong perimeter protection with the 2.50mm high tensile Longlife Blue® wires reinforcing the strength of each rail.

LOW MAINTENANCE - Will not splinter or rot. Minimal upkeep is required for a visually appealing fence with no need to paint rail.

FAST INSTALLATION - Flex Rail installs in one continuous length (100m roll) with no heavy machinery required. Waratah supply accessories that attach, join and tension your Flex Rail quickly and easily to your intermediate and strainer posts.

AUSTRALIAN MADE - Flex Rail is made in Australia minimising lead times or shipping delays & is readily available from your local Waratah distributor now.
Available in black or white​
Roll width: 120mm
Wire size: 2.50mm
Roll length: 100m

Available in black or white
CUSTOMER SOLUTIONS
See how our customers have used Waratah products to successfully solve their fencing problem and transform their business.
View All Solutions
LOCATE A DISTRIBUTOR
Waratah® distribute its premium range of fencing products through reputable distributors.
Enter your postcode OR search for your State and/or Town to see details of your nearest Waratah® distributor.