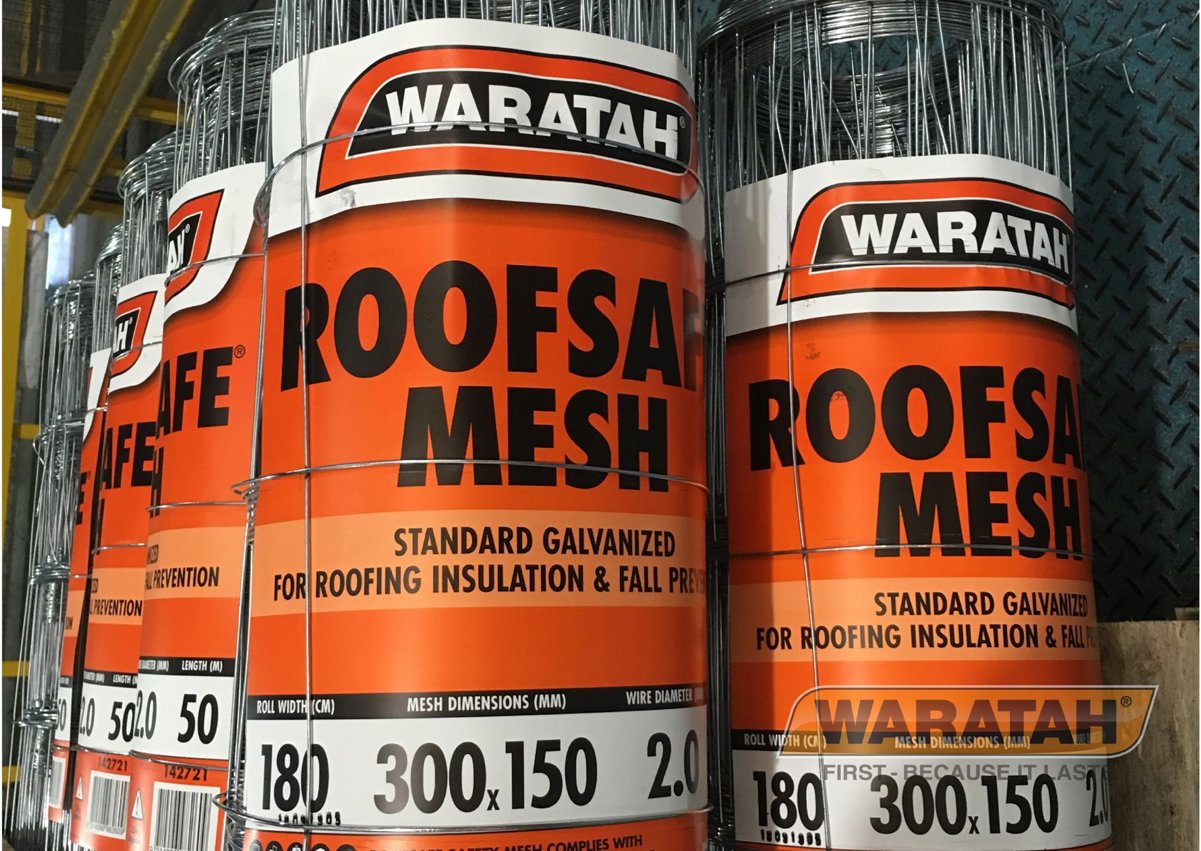 ROOFSAFE® MESH​
FEATURES

Galvanized welded mesh product that meets all the requirements of AS/NZS 4389-2015 Safety Mesh.
Specifically designed to support insulation and to help prevent employees from serious injury or falls during sheet laying and any future maintenance work.
Long lasting, reliable and cost effective.
Roofsafe Safety Mesh offers long term protection for workers when securely fixed to the structure over the area to be roofed and used in conjunction with appropriate edge and perimeter protection.
Use to help protect employees from serious injury.
Ideal for use in factories, warehouses, schools, office blocks and shopping centres.

SPECIFICATIONS

Available in 1800mm or 2250mm wide rolls

300mm x 150mm mesh spacing
 

| | |
| --- | --- |
| WIRE SIZE* | ROLL LENGTH (M) |
|   |   |
| 180/300/150/2.00* | 50 |
| 225/300/150/2.00 | 50 |
| 180/300/150/2.00 | 20-120 |


*180/300/150/2.00 = 180cm width x 300mm vertial spacking x 150mm horizontal spacing x 2.00mm wire diameter
SCAN FOR MORE INFORMATION
Roofsafe Mesh
Roofsafe® Mesh
Galvanized welded mesh product that meets all the requirements of AS/NZS 4389-2015 Safety Mesh.
Specifically designed to support insulation and to help prevent employees from serious injury or falls during sheet laying and any future maintenance work.
Long lasting, reliable and cost effective.
Roofsafe Safety Mesh offers long term protection for workers when securely fixed to the structure over the area to be roofed and used in conjunction with appropriate edge and perimeter protection.
Use to help protect employees from serious injury.
Ideal for use in factories, warehouses, schools, office blocks and shopping centres.

Available in 1800mm or 2250mm wide rolls
300mm x 150mm mesh spacing
 
| | |
| --- | --- |
| WIRE SIZE* | ROLL LENGTH (M) |
|   |   |
| 180/300/150/2.00* | 50 |
| 225/300/150/2.00 | 50 |
| 180/300/150/2.00 | 20-120 |

*180/300/150/2.00 = 180cm width x 300mm vertial spacking x 150mm horizontal spacing x 2.00mm wire diameter
CUSTOMER SOLUTIONS
See how our customers have used Waratah products to successfully solve their fencing problem and transform their business.
View All Solutions
LOCATE A DISTRIBUTOR
Waratah® distribute its premium range of fencing products through reputable distributors.
Enter your postcode OR search for your State and/or Town to see details of your nearest Waratah® distributor.